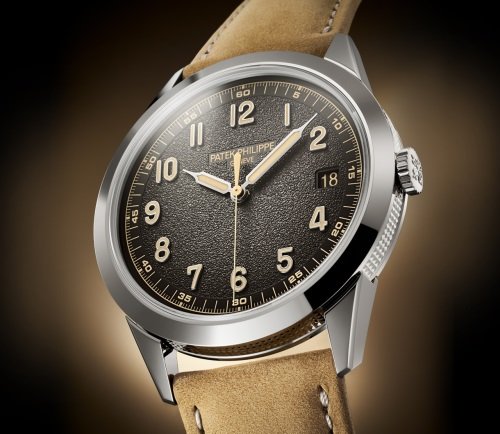 Patek Philippe
In 1839 the two polish immigrants Antoni Patek and Francois Czapek were to lay the foundation of Patek Philippe by setting up the company of Patek, Czapek & Co in Geneva. In 1844 then, Patek was to meet the French watch maker Jean-Adrien Philippe, who would proudly present to him his pioneering keyless winding and hand-setting system. As matters ran their course Patek Philippe rose to the one and only watch manufacture whose name and reputation has persisted to the present day. Current collection contain different models of the Aquanaut, Calatrave, Gondolo, Nautilis and Twenty-4. High-end complications and finest materials perfectly fuse to Patek Philippe watch works. These watches are truly technical masterpieces on a major level.
Visit also: Patek Philippe Homepage
Patek Philippe History
The manufacture of Patek Philippe originates from the former company of Patek, Czapek & Co found in 1839 Geneva, Switzerland. Patek as a Polish aristocrat who had immigrated into Switzerland began a cooperation with the likewise Polish immigrant and watch maker Czapek. But as the partnership did not sustain due to insuperable differences, it was soon to end in separation. In 1844 Patek makes the fateful acquaintance of French watch maker Jean Adrien Philippe, which was to result in a fruitful collaboration in the years to follow. By this time Philippe had already made his mark by his pioneering invention of keyless winding and hand-setting system in 1842. In 1845 Philippe officially joins the business, thenceforth known as Patek & Cie. Six years later the final renaming to Patek Philippe & Cie. is eventually effected. As early as in the exact same year of his entrance into business, Philippe is to develop a pocket watch with minute repeater and the company is granted a patent for a watch with a stem-winding and hand-setting mechanism. In 1868 the first Swiss wristwatch is to be manufactured on the premises of Patek Philippe & Cie. A single piece that goes to the hands of a Hungarian countess. Further patents follow in 1889 for the Perpetual Calendar mechanism in pocket watches as well as in 1902 for the Double Chronograph. By this time, Philippe having passed away in 1894, has been dead for 8 years. His heritage is however continued by the manufacturing of the most remarkable chronographs and wrist watches. Having been turned into a joint-stock company in 1901, the majority of shares is taken by the two brothers Jean and Charles Henri Stern in 1932. One year after the company creates a pocket watch of 24 complications, which was to be considered the most complicated mechanical but wearable pocket watch worldwide until 1989. Moreover the watches of the Calatrava collection of 1932 which will become the brand's classics as well as the World Time chronograph in 1937 have clearly made their contribution to the company's renown. To this day the manufacture has remained an independent company by now successfully led by Thierry Stern, who is a direct descendant of the Stern brothers mentioned before.
Watches and masterpieces by Patek Philippe
Current collections by Patek Philippe are composed of 230 models in total which are classified into men's and ladies' watches. The latter contain 91 models whose cases are either made of rosegold, whitegold or platinum. Gold as well as platinum are also applied to men's models. Depending on the model, watches feature different complications. Such as the latest model the Grandes Complication of 2013 which has a captivating range of 12 complications and with its Sky Moon Tourbillon there is watch history in the making. The manufacture's movements are subdivided into Manual Winding-, Self-winding (that is automatic) and Quartz movements. These are correspondently labeled.
Patek Philippe in the world of watches
At this point several celebrities as proud proprietors of Patek Philippe watches could be perfectly well mentioned. Instead we shall hint at the following: to the present day Patek Philippe reigns supreme at the watch sale at auctions, perfectly providing precious watches and chronographs up to twenty-figure prizes.