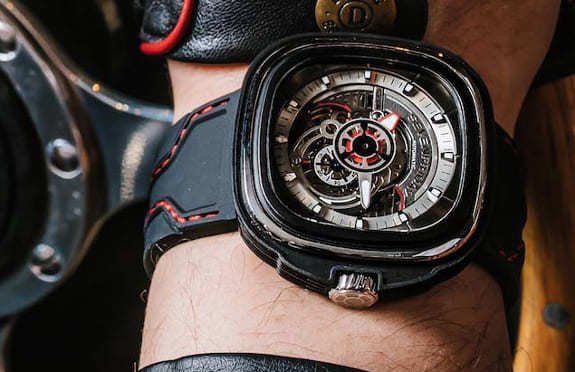 NOMOS Glashütte
Nomos Glashütte is a rather recent watch manufactory found in 1990 by Roland Schwertner. After 2 years of development the first models of the collections Orion, Ludwig, Tetra and Tangente are being introduced. In the course of time the collection was constantly extended and effected in the models Tangomat, Zurich, Club and lastly in 2013 the Ahoi added to it. Over a relatively short period of time Nomos Glashütte has gained worldwide regard and reputation. Multiple watch models, such as the Nomos Tangente have won renowned awards in national as international competitions.
History Nomos
In the word of traditional watch manufacturing with company histories commonly ranging more than a 100 years back in time, Nomos Glashütte being found as recently as in 1990 is a rather young but very successful venture. As early as two months after the fall of the Berlin Wall photographer and EDV expert Roland Schwertner applied for the brand of Nomos in the small town in Saxon Switzerland. But it is indeed not by this incident that the brand of Nomos makes its first appearance in Glashütte. Nomos as a company existed as early as in 1906 yet not as a watch maker to manufacture but merely to sell Swiss watches. In order to qualify for the subtitle Glashütte, at least 50% of a watch has to be manufactured Glashütte. Today's Nomos takes its local level of completion to up to 95%. The term Nomos contains different connotations. The one to claim the closest connection to the world of watches ought to be the derivation from the ancient Greek "Nomos", signifying custom, law and later coin. By the foundation of the first watch manufacture in 1845 by Ferdinand Adolph Lange, Glashütte began to rise to a globally known city of watches.
Watches and movements by Nomos
Two years after its foundation today's Nomos Glashütte/SA introduced the first collections of Orion, Ludwig, Tetra and Tangent. This selected choice of fine mechanic watches was followed by four more collections to this day: the Tangomat, the Zurich, the Club and lastly in 2013 the Ahoi. Home made works and calibres by Nomos are named along the Greek alphabet and feature different complications:
α (Alpha), β (Beta), γ (Gamma), δ (Delta), ε (Epsilon), ζ (Zeta), ξ (Xi), η (Eta) Sundial. Naturally the Sundial is not incorporated into a watch, but constitutes a watch itself. A modern version of probably the world's prototype time measurement.
Nomos in the world of watches
The watch manufacture Nomos Glashütte has certainly gained an outstanding reputation over a rather short time of existence. Especially the Tangente served as a signature model to publicize Nomos globally. By now the Nomos Tangente holds for a classic in design, being annually awarded in national as in international competitons since the years of 2000. Clear and simple as can be, it is not only the composition but also the craft's quality that constitute the Nomos flagship.
Something special
It is indeed exceptional for a former photographer and EDV expert to found a watch manufacture and to lead it in less than two decades to such grand success. If nothing else this is due to the interplay of the traditionally manual practice of Glashütte and the possibilities of modern technology. Above all Nomos considers customer communication a major concern. For these purposes the Nomos subsidiary company of Berlinerblau was found to manage all marketing affairs and does now perform perfectly in all procedures.
Visit also: Nomos Glashütte